Couples
Who Should Attend?
Couples
Healthy couples wanting to fortify their marriage and prevent disharmony
Struggling couples experiencing communication/conflict issues within their relationship
Troubled couples considering divorce
Divorced or Separated Couples
Who want to restore marriage
Who want to avoid future relational failure by learning from past mistakes
Anyone
Engaged couples who want to prepare for a fulfilling marriage
Co-habitating couples who desire to improve realtionships
Anyone who wants to learn relational principles to improve their relational skills as a parent, friend, co-worker, manager, pastor, or counselor
The Course Content Will Include These Areas:
Relationship building
Strong communication
Conflict Resolution and forgiveness
Understanding how your family of origin impacts your current relationships
Five session – $20 per session – Contact Us for details
Watch these couples testimonies of how TouchPointe helped their marriage:
Marriage in Crisis?
TouchPointe can be a "First Responder" and can provide some initial support. In some cases, when the issues are deep seated, referrals will be made to professional therapists or counselors.
Call 740-485-5408.
---
Couple Talk is located at 117 Columbus Rd.
---
Dan & Barb Humphrey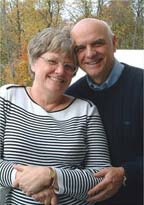 Dan & Barb have been married for over forty-five years and have a passion for helping couples have a meaningful relationship together. They have taught several marriage classes, worked with engaged couples, and have coached couples who have gone through a crisis in their relationship. They have three children, all married, and they enjoy their ten grandchildren. Over the years, Barb & Dan have participated in World Wide Marriage Encounter, a variety of marriage retreats and conferences, and are trained as Prepare/Enrich facilitators. Barb has had extensive training in Marriage and Family relations through the American Association of Christian Counselors and has a diploma in Biblical Lay Counseling. They are marriage coaches and not professional marriage counselors or therapists.