Parents
Parent Talk Sessions
Curriculum used in the "Parent Talk" sessions include:
---
Outside Resource People may be used in the sessions to bring focused experience regarding particular issues such as discipline in blended families or help for single parents as they balance their extended roles.
One-on-One or Couple to Couple coaching is highly recommended. All Parent Talk Sessions are typically two hours in length and the number of sessions will vary with the needs of the parents. Fee is $20 per session.
Call 740-485-5408 for details.
---
Sessions are located at 117 Columbus Rd.
---
Dale & Janet Anthony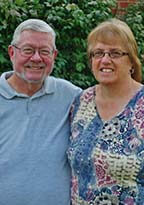 Dale and Janet have been surrounded by children in one way or another for over 35 years…and enjoyed it. They added to their own three biological children by adopting two out of foster care. As therapeutic foster parents, they parented 27 children over a period of 6 years, receiving training for severe behavior and anger management, dealing with learning disabilities and helping kids and families work on their relationships. Janet served as children's director at her church for 10 years and currently works with KidZ at Heart International, teaching leaders how to effectively teach kids according to their developmental skills and their learning styles. Dale teaches elementary children at church, has worked as a school aide and currently works at Mount Vernon Developmental Center. Their free time is spent enjoying their eight grandchildren who give them more opportunities to keep their parenting skills sharp.
"Without discipline, children lack the tools necessary to navigate relationships and challenges in life such as:
Self-discipline
Respect for others
The ability to cooperate with peers"
— Katherine Lee